San Francisco screwed me again
I was going to see a movie at the Castro Theater in San Francisco with some friends. I was driving along 18th Street and I saw a "P" sign showing parking. So I turn into it. It's a little strip with parking meters.


All the meters were taken up. There was this guy who looked kinda like a parking attendant. I asked him how much parking was. He said $5. I asked where I could park. He pointed me to this red zone. I pointed out that this was a red zone. He said that was OK.
I ask if he has change for $20. He hands me this big ball of $1 bills. I ask what this is. He says it's about $10. I make a note to him that I need $5. He said he remembers me and he'll give me the $5 when I come back. I note that someone else just parked and he should have change. He says he turns it into some box all the time.
So it's becoming obvious to me that I'm being screwed. To my horror, I watch myself just let it happen. I should have just taken my money and told him to screw off. This is just some guy. Not a parking attendant. Just some guy. But I get screwed anyways.
I was worried the whole time I was in the theater watching Godzilla that my car would be towed. Fortunately I only got a parking ticket.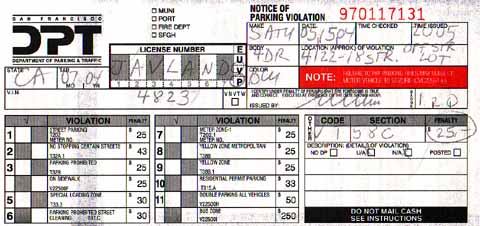 COMMENTS