Archives: April 2007
Thu Apr 26, 2007
Dinner with Woz
I have a weekly Monday night dinner club where some friends get together and have dinner at a different economical simple restaurant. It's usually some other geeky friends I know from work or the industry along with their wives or girlfriends.

This week, we decided to go to Jalisco's in downtown Campbell. One of our regular dinner club members said that he had seen Steve Wozniak (co-founder of Apple Computer) at that restaurant before. So, I decided to add him to the weekly email announcing the time and location of the dinner.

I soon got an email back from Woz that asked, "is this something I'm invited to?", and expressing that it was his favorite restaurant. I told him we'd love to see him there.

When I arrived at the restaurant at the posted time, Woz was already there. He had gotten there extra early so he could finish eating by the time we all arrived. He did this so he could spend the entire time talking to us.

Not only did he talk to us, but he performed magic tricks, and then explained how he did them. He kept insisting he had to tell us how he did them because he was a mathematician, not a magician. He also gave us some magic trick gifts, and told us stories for a full two hours. We all had a real fun time, and we hope to hang out with him again.


[0]
comments
(8429 views) |
link
Wed Apr 18, 2007
I met the MythBusters!
In the last couple months I started watching MythBusters almost every night. They've been on the air long enough that almost all the episodes are new to me.

I was in the Apple cafeteria today eating lunch, when I see this guy. The guy looks familiar, like maybe a guy I'd seen at Apple before. I look a little more carefully at him, and think that he looks a lot like that guy from MythBusters. You know, that guy with the funny French hat. Then I look at the guy beside him, and quickly realize that it's the MythBusters guys.

I call my girlfriend right away since we watch TV together, and she gets excited for me. She insists that I get a picture with them and get an autograph. I didn't have a camera or anything but my business card for them to sign, but I didn't want to disappoint my baby. So I ask one of the guys at their table who I saw had a camera if he could take a photo and email it to me, and asked the guys if I could get a picture with them. I noticed I wasn't the only one to ask for a photo with them.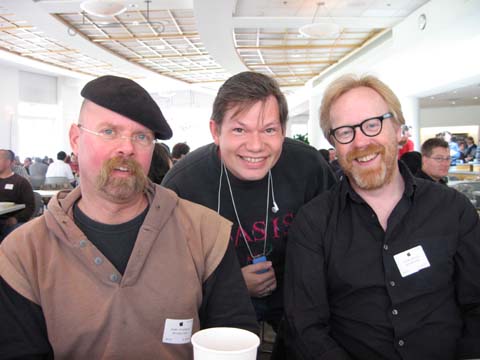 JAV with Jamie Hyneman and Adam Savage
I don't know if they get recognized wherever they go, but they're very popular at Apple - "nerd central".
[1]
comments
(8904 views) |
link